Home

>

Your Credit (Ch. 23)
Somewhere, even as you read this, your life is being summarized as a series of entries about what you owe, what you buy, and how timely you pay your bills. Every time you do something to affect your credit—sign up for a new credit card, make a late payment, complete a loan application—it is recorded in a report that may be read by future lenders, landlords, and even employers.
Why is everyone so interested in your credit report? What does it reveal about you? Think of it as a credit report card that provides a snapshot of your financial responsibility. It's a record of every time you apply for or accept a loan or other form of credit. It also tracks how you use your credit—how much you have available, how much you owe, and how you repay. The people who will be considering granting you a student loan or giving you a new credit card want to know your financial track record.
Do you know what your credit report contains? If not, you should. Even if you haven't used credit much at this point in your life, you need to be watchful to make sure someone else isn't using it for you.
This chapter will tell you what you need to know about credit. We will
explain what a credit report is
outline the importance of credit reports
tell you how to obtain a free copy of your credit report
describe how to maintain good credit
What is a Credit Report?
A credit report is a detailed history of your borrowing habits for the past seven to ten years. Your credit report is a record of what you owe and to whom, what you've paid, and if you've made any late payments. It also reveals personal infor- mation, such as your social security number, current and former addresses and telephone numbers. Any time you order a report or authorize someone else to do so, the inquiry is recorded. Several companies called credit bureaus compile and maintain databases for the purpose of creating such reports.
According to federal law, credit bureaus are allowed to give your credit report to the following parties:
Creditors who are considering giving you credit
Employers considering you for employment, promotion, reassignment, or retention
Insurers considering you for an insurance policy or reviewing an existing policy
Government agencies reviewing your financial status or government benefits
Anyone with a legitimate business need for the information, such as a potential landlord
Parties who have a court order or federal jury subpoena for your credit report
A third party to whom you have requested, in writing, that your credit report be issued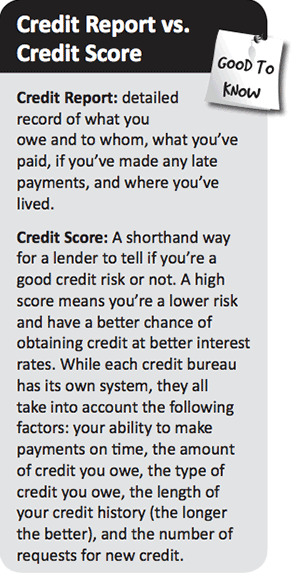 There are two kinds of inquiries made regarding your credit. "Hard" inquiries are when you seek to obtain credit or when you authorize someone access to your full credit report. "Soft" inquiries are requests for general information rather than a full credit history. Examples of soft inquiries include when you request a copy of your own credit report and when a company is gathering marketing information about potential customers.
Why is My Credit Important?
Your credit report and credit score might seem irrelevant at this point in your life, but they are very important. Good credit opens doors and lowers rates. Here are just a few things credit can affect:
Insurance rates. Many insurance companies use credit scores to decide whether to offer a customer car insurance and how much to charge him or her for it.
Your ability to secure a loan. If your credit score indicates you are a credit risk, you may be denied credit.
Interest rates on loans and credit. People with a good credit history get better interest rates and more credit made available to them. For example, someone with an excellent FICO (Fair Isaac Corporation, one of the major credit score reporting agencies) credit score (720 – 850) might be able to secure a 36 month auto loan at an interest rate of 4.953%. Someone with a fair FICO score (660 – 689) would qualify for an auto loan at a much higher interest rate, say 8.347%. The difference in monthly payments on a $10,000 car would be $16, or over $570 over the life of the loan. On larger loans the difference is even more significant, of course. Someone with an excellent credit score might pay as much as $4,800 less on a $100,000 30-year fixed mortgage than someone with merely a good credit score. The short story: People with the best credit scores pay less interest. (Check out www.myfico.com for credit score/loan amount calculators.)
Employment. Some employers use credit history to assess a job applicant's responsibility and reliability. If an employer or potential employer denies you employment, a promotion, or security clearance because of your credit history, they are required by law to let you know and to give you time to review your report and respond.
Your ability to rent an apartment. Landlords want to know if their potential tenants are likely to pay rent on time. People with better credit scores may be more likely to secure a rental unit—and less likely to pay a huge deposit.
Get Your Free Credit Report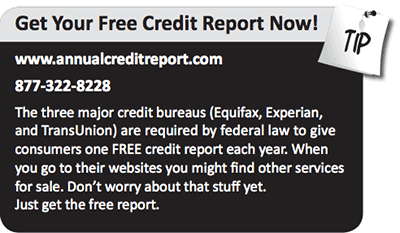 The Fair Credit Reporting Act requires each of the nationwide consumer reporting companies (Equifax, Experian, and TransUnion) to provide you with a free copy of your credit report, at your request, once every 12 months. You need to be proactive with your credit. Check it now and address any problems immediately.
Conventional wisdom says it takes years to remove a blemish from a credit report, but seconds to put one on. Checking your credit report on a regular basis will enable you to monitor and prevent any illegal use of your credit.

Maintain Good Credit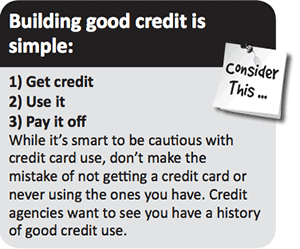 Avoiding credit cards might make good financial sense, but it doesn't help you build credit. The best thing to do at this point in your financial life is to obtain credit, use it, and pay it off. That way you'll have a solid history for future lenders to review—and you'll be more likely to get the mortgage or business loan you want in the future.
Even responsible people can end up with dings on their credit report. Here's how to keep your report nice and shiny:
Know what you owe, know who you owe, and pay your bills on time.
When you move, make sure every business you deal with has your change of address on file. You don't want to miss a payment because the vendor is sending bills to an old residence!
Set up a folder in your email account for e-bills, as they can easily get buried in the inbox.
Don't miss a payment. Remember: Inadvertently missing a payment—even missing one payment because of the vendor's mistake—can cause as much headache as blatantly ignoring a due date.
Repairing your credit is another challenge, but it's a process worth starting now if your credit report is less than stellar. Here are some ways to repair your credit effective immediately:
Set up a system today for paying all current bills on time.
If you have big outstanding balances that you can't pay off, contact the business to see if they'll negotiate a payment plan with you. Vendors lose a lot of money when they send accounts to collections agencies, so they'll probably be willing to work with you.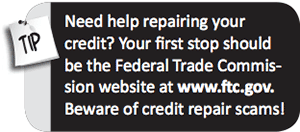 If you see an error on your credit report, document it right away. Write a letter to the credit bureau explaining your dispute, send in any information that substantiates your claim, and request that the error be corrected. Inform the creditor as well. Remember to make copies of all related paperwork and keep careful records.
Your Credit Exercises
You probably saw this one coming: Check your credit report now. Go to www.annualcreditreport.com and request a free credit report. Review it. If there are any errors, address them as soon as possible.
At this point in your life, do you need to build, maintain, or repair your credit? Decide on two action steps you can do this week to improve your credit. Tell a partner what your actions steps are, then report back to him or her when you've completed them.
If you were an employer, would you want to know the credit histories of your prospective employees? Explain. Do you think it is right for an employer to have access to this information?
Debt accumulation among college students is at an all-time high. Do you think policies or required programs should be put into place to correct this situation? If so, why? If not, what do you think would help improve the situation?
Visit www.LifeDuringCollege.com
for more resources and exercises.