They come bearing gifts of free t-shirts and water bottles. Sometimes they even offer gift cards or cash. While your piggy bank sat mutely in the corner of your room, these banks send cheerful representatives to campus to sign you up for a new checking account. You need a bank, they need customers. It's a win, win situation, right?
Right. Except that banks are in the business of making money and you'll want to make sure the bank you choose doesn't make too much money off of you. Consider this: the average checking account costs over $200 annually. Free checking is no exception, as the fees for ATM and teller use, automatic bill payment, check writing, and overdrafts mount up. We know one college student who was shocked when she added up all the fees she had paid over a one year period—and realized it was over $800!
Avoiding such financial disasters doesn't mean you have to keep your money tucked away in a box under your bed; you just need to choose—and use—your checking account wisely.
This chapter will:
help you choose a bank that makes sense for you
discuss how to open a bank account
teach you how to keep track of your account balance
offer you money-saving tips for using banking services
Choosing a Bank
You have three main choices: a bank with physical locations, an online bank, or a credit union. Banks and credit unions offer similar services, but differ in whom they serve and how they do business. Banks want to make a profit, and do so by charging service fees and offering low interest rates on deposits. Credit unions, on the other hand, are nonprofit and are owned by the members they serve. Their business model allows them to offer services at a much lower cost and to provide higher rates on deposits. However, credit unions are not open to everybody, they usually have a limited number of branches and a smaller network of ATMs, and they tend to offer a limited range of services. If you are eligible to join a credit union, it may be a good choice for you, but make sure you consider all potential costs before you make a decision.
Traditional banks with physical branches are the most common choice for students. There might even be bank branches on your college campus. Most traditional banks will offer a student checking account that has low to no monthly maintenance fees. They count on the fact that college students will rack up fees that offset the free checking. (Every bank has different fees, but some common ones to be aware of include fees for dipping below the minimum monthly balance, bouncing a check, or using a non-affiliated ATM.) Traditional banks generally have online banking services so you can do most of your banking from the comfort of your dorm room.
Online banks are another option. They usually offer free or low-cost checking accounts and services, and may have better interest rates than traditional banks. Some even offer no-fee ATM use at any ATM, which can be a bonus when you're out on the town or when you travel home for breaks. They have fees for overdrafts and non-sufficient funds and the like, of course. One downside of choosing an online bank is that it may be inconvenient to make deposits. You may have to set up automatic deposits or send the checks to them in the mail, though some banks offer convenient at-home deposit options where you can submit a deposit using your smartphone.
Evaluate your banking needs before you make a decision. Review your previous banking habits, as well as your current situation. Consider where you will live throughout the year and what kind of banking you think you will need. Be realistic about your banking habits and needs. (You've got enough to do just figuring out new classes and how to get along with a roommate.)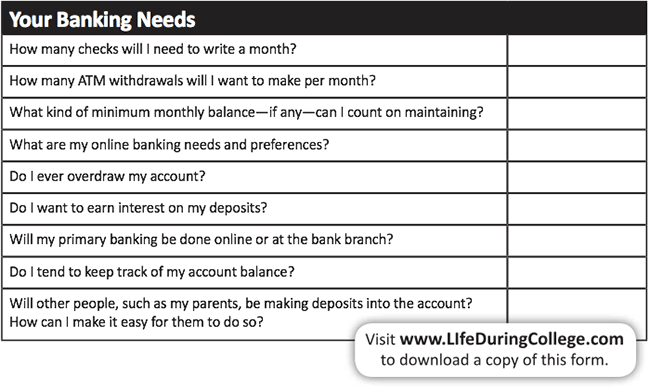 Once you figure out how you're likely to use a checking account, consider the options available to you. Here are some items you can evaluate in order to comparison shop: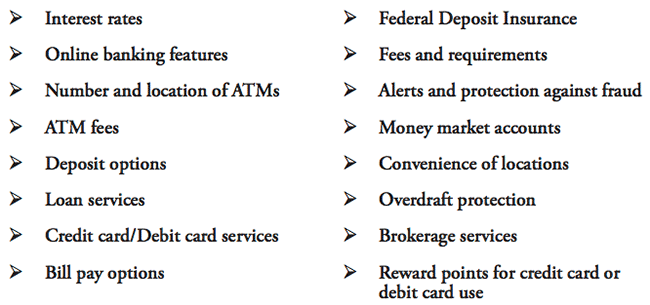 Before you sign up with a bank, find out how other people will be able to make deposits into your account and what kind of information those other people will need in order to do so. Many students will receive at least periodic monetary assistance from parents and other people, so it makes sense to choose a bank account that makes it easy for them to make deposits.
Opening a Bank Account
You may open a bank account in person, online, or by mail. If you are under eighteen, your parents or guardians will need to cosign to open the account. One good thing about such an account, called a joint account, is that your parents or guardians will be able to deposit money easily. They will also be able to review your spending and deposit records, which may be helpful or a drawback, depending on your perspective. A potential drawback from their perspective is that, as cosigners, they will be liable to cover your overdrafts or other banking problems. Some students start with a joint account and then, when they turn eighteen, they switch to an individual account.
Whether you are opening a joint or individual account, you will also probably need two pieces of identification and an address.
If you do open a joint account with your parents, have a conversation about expectations they (and you) have of how that joint account will be managed. Money can be a hot topic of conversation, and the last thing you and your parents need in this time of transition is tension about banking issues. Some parents, for instance, will want to maintain control over their first-year college student's spending and saving habits; others simply make deposits and do not pay much attention to their son or daughter's bank account details.
Keep Track of Your Account
If someone offered to pay you $200 to balance their accounts correctly, would you do it? When you balance your own account and avoid costly mistakes like overdrafts and additional fees, you get to keep more of your money. Here are some ways to manage your account without making it a full-time job:
Keep track of debit card purchases and ATM transactions in a register
Use duplicate checks so you have copies for your reference
Note when you make deposits and when the funds will be available
Keep receipts for purchases, withdrawals, and deposits
Establish a regular time each week to review your accounts and update any activities you may have forgotten
Set up your online banking so you can check your account balances and recent activity
It's important to check your account balance regularly. Doing so will help you avoid any surprises that can crop up, such as an overdrawn account or a faulty deposit.
Tips to Help You Save
Know what part of "free" means "fee." Sure, your bank will charge fees for some services. If you know what they are you can avoid getting stuck paying for them.
Use direct deposit. Many banks will waive certain fees if you use direct deposit. If your employers offer direct deposit, sign up for it.
Maintain a minimum balance. Banks calculate your minimum balance in one of two ways: daily minimum balance, which requires you to maintain the balance every single day, and average daily balance, which requires you to maintain the balance as an overage over the billing cycle. Make sure you choose a realistic balance option—if you have a choice between the two—and maintain the balance required by your bank.
Opt in for overdraft protection. Sometimes things happen that are beyond your control. For example, you might write a series of checks and then realize your student loan funds were never deposited. With overdraft protection, banks advance you the money to cover the checks you have written. There are usually fees for this service. Know what your bank's policy and procedures are and how much overdrafts might end up costing you.
Ask for discounts and waived fees. Once your bank has you as a customer, they want to keep you. Don't be shy about asking your bank for a better deal or to waive certain fees.
Be smart about using services:
Know where your bank's no-fee ATMs are located. If you use ATMs that are not part of your bank's system, you will be charged an average of $2.40 per transaction, according to Bankrate.com's most recent survey of checking accounts. Often, you will be charged twice: once by your bank and again by the ATM company.
Request cash when you use your debit card to make purchases.
Most banks don't charge fees for "cash back" transactions.
Limit transactions and bank visits if your checking account has a maximum number of such services allowed per month. However, it's important to note that there are so many banking options available that you shouldn't have to settle for a bank that limits transactions and bank visits.
Don't order checks from your bank. Most banks charge between $12 and $17 for a box of 250 checks. A cheaper option is to order checks directly from the check-printing company. Find these companies online.
Use online bill pay options. You'll save on stamps and checks. Also, you can set up automatic payments so you won't get stuck paying the fees vendors charge for late payments.
Banking Exercises
Fill out the chart on p. 151, then compare three specific banking options available to you. Which option do you think will be the best fit for your banking needs and habits?
Research online money tracking sites that can help you manage your account. Some of them categorize expenses, send alerts when funds are low, and help you visualize your cash flow with charts and graphs. Your bank probably offers such online services. If they don't, research online or check out money tracking apps like Mint, Spendee, and BUDGT.
Make a banking action plan and post it where you'll remember to follow it. Your action plan might include a schedule for bill paying and balancing your checking account, a method for keeping track of receipts and transactions, and ways to leverage your bank use (for instance, can you pay for your tuition with a debit card that earns you airline miles?).
Visit www.LifeDuringCollege.com
for more resources and exercises.