Home

>

Paying For College (Ch. 20)
Depending on your COA, your FAFSA, your EFC (which will be noted on your SAR), and your enrollment status, you may qualify for a FSEOG or a Pell or your parents may get a PLUS. Now, your FAA can tell you all about how your aid is disbursed, how interest will accrue, and if it is capitalized. For more infor- mation, check out the NSLDS.
Sometimes it feels like you need a degree just to figure out how to pay for college. Or two degrees: one in finance and one in acronyms. To make matters more confusing, the rules and amounts seem to change daily.
In this chapter we will explain the most critical terms related to college finance, give you an overview of your options for paying for this investment that is your college education, and provide you with the websites and phone numbers that will be essential for figuring out your personal college financing plan. Here are the sections included in this chapter:
Work
FAFSA
Federal Grants and Work-Study
Loans
Other options
Work
While going to school full time and working is a challenge, it is not uncommon. In fact, nearly 39% of full-time college students work (Source: www.bls.gov).
The benefits to working while attending school are:
a reduced debt load when you graduate
work experience that can help you qualify for future internships and jobs
experience managing time and balancing priorities
The drawbacks to working while in school are:
extra stress from trying to budget time and energy
lack of focus on academics might mean less success in your classes
little time for social or extracurricular activities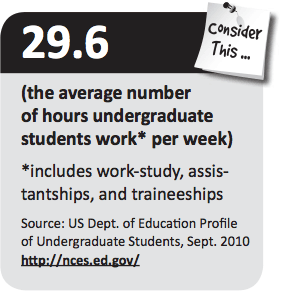 Even if you do decide to work while taking classes, you'll probably need to supplement your income with other sources. For many students, that means turning to Uncle Sam or private organizations for scholarships, grants, and loans.
The FAFSA
Completing the Free Application for Federal Student Aid (FAFSA) is a kind of rite of passage—for the student and, usually, his or her
parents. As its name states, the application is free. It's also necessary if you want to be considered for the majority of financial aid options. Applications are accepted as early as January 1st and as late as the end of June, but you want to submit yours as soon as possible in order to have the best chance of receiving financial aid. Go to www.fafsa.ed.gov to complete yours online. Contact the Federal Student Aid Information Center at 1-800-4- FED-AID with questions you have about the form and/or the process.

After you complete your FAFSA, you will receive a Student Aid Report (SAR) that details your family's expected contributions to your college costs. Your eligibility for financial aid—and for different types of financial aid—will be deter- mined based on this information.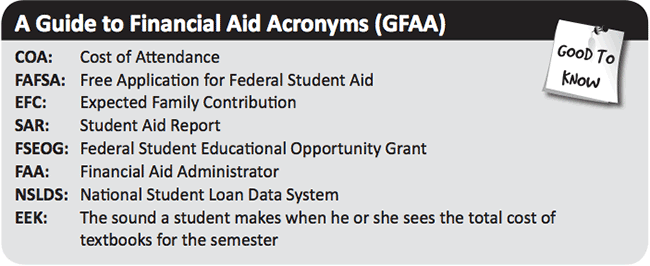 Federal Grants and Work-Study
Many schools participate in federal programs that offer aid in the form of federal grants and work study opportunities. Remember, you may be competing with other students for these grants and work study jobs, so fill out any required paperwork— including the FAFSA—as early as possible!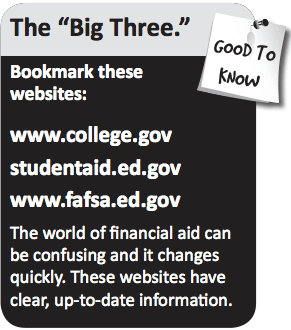 Federal Pell Grant: Students who demonstrate financial need may qualify for a Pell Grant. Pell Grants, which may be as large as $5,645, do not have to be repaid. If you are awarded a Pell Grant, your school may disburse the money to you directly or credit your account.
Federal Supplemental Educational Opportunity Grant: If you are awarded a Federal Supplemental Educational Opportunity Grant (FSEOG), you may receive up to $4,000 a year. The money will be disbursed to you by your college. You may receive checks or a credit to your account. You do not have to repay a FSEOG.
Federal Work Study: If you qualify for a work study program, you will be eligible for a job either on campus or with another organization that has an agreement with your college. You will be paid monthly wages by the college.
Teacher Education Assistance for College and Higher Education (TEACH) Grant: You may be eligible for up to $4,000 per year if you are enrolled in a teacher education program and agree to teach for a period of time in a high-need field or in a high-need school. If you complete your teacher education program but do not fulfill your contract agreements, you must repay the TEACH grant.
Iraq and Afghanistan Service Grant: If your parent or guardian died serving in the military in Iraq or Afghanistan, you may be eligible for a federal grant up to $5,500.
Federally Funded Loans
There are a variety of loan options available to students and their parents. The following are the federally funded loan options:
Federal Perkins loans: Perkins loans are low-interest loans for students with exceptional financial needs. The U.S. Department of Education allots a certain amount to participating colleges, which determine the students with the greatest needs. Your college will either disburse Perkins money directly to you or it will credit your account. There are no fees for Perkins loans.
Subsidized (also known as the Federal Direct Stafford/Ford Loan): If the Department of Education determines that you have financial need, you may qualify for a subsidized loan, which means you will not be charged interest on the amount you borrow while you are enrolled (at least half time) in school. You will also get an interest-free grace period for the 6 months after you graduate, drop out, or drop below the minimum number of enrollment credits. If you apply for and receive a deferment after the grace period expires, you will not be charged interest while your loan is deferred.
Unsubsidized (also known as the Federal Direct Unsubsidized Stafford/Ford Loan): Same as above except Uncle Sam does not pay the interest on your loan while you're in school. You can wait to make payments until after you graduate, but the interest on your loan will accrue and be added to the total amount you owe when you do start making payments.
PLUS loans: If you are still considered a dependent, your parents may apply for a federal PLUS loan to cover part of the cost of your education. PLUS loans are not based on financial need. To be eligible for a PLUS loan, the student must be enrolled in school more than half time and the parents must have a good credit history. Unlike the Stafford/Ford loans, parents are responsible for repaying PLUS loans. If you go on to graduate school, you may be eligible to apply for and receive a PLUS loan on your own behalf.
Private Student Loans
Private student loans are another option. Unlike the loans described in the above section, private student loans are funded by private institutions, such as banks and credit unions. While these loans are readily available for many borrowers, they carry more risk than those loans funded by the federal government. A private student loan may
have a very high interest rate. We have seen rates as high as 18% for private student loans.
have a variable interest rate. That means your monthly payment amount may change unexpectedly.
require that you begin repaying while you're still in school.
not offer loan forgiveness or forbearance.
have a prepayment fee or penalty fees
A word of caution: Take your time to review all the options available to you. If you take out a loan it could be with you for many, many years. Spend some time calculating how long it will take you to repay the loans you take out (a simple financial aid calculator is available at www.finaid.org).
Other Options
There are many ways to piece together the funds you need to pay for your education. Here are some routes students take to make their college dream a reality: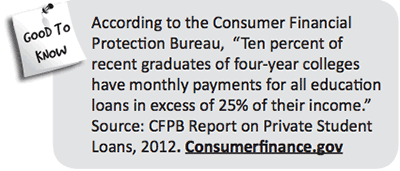 State and local aid: Your state and local organizations may offer grants and scholarships. Go to the US Department of Education's Education Resource Organizations Directory website for all the links you need to find out about what aid your state and other organizations may have available.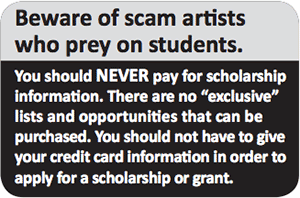 Service: Students who serve in programs such as AmeriCorps may receive compensation and other benefits that will pay
for some or all of their college costs or loans. Of course, serving in the military is another route to paying for one's education.
Scholarships: There are innumerable scholarships available to students—the key is to know where to look for them. Community and business organizations, unions, service clubs, and civic groups abound. Your parents' employers may have scholarships available, or the local Rotary Club, your honor society, your fraternity or sorority, your bank, an organization that focuses on your proposed area of study.... Ask around, check your school's financial aid office, and use the Internet to search for scholarship and grant money.
Competitive or conditional grants: At http://studentaid.ed.gov you can find a list of grants for students with exceptional skills or who agree to "pay off" the grant with a term of service. For example, the TEACH Grant Program gives students money if they agree to teach for a certain amount of time in high- needs areas of the country. The Academic Competitiveness Grant is available to students who have proven themselves in a rigorous course of study.
Lower-cost education: Some students decide to lower the cost of their education in addition to finding ways to pay for it. For example, a student might take classes at the local community college during summer quarter.
Paying for College Exercises
Do you think students should have free or low-cost education available to them if they prove themselves academically in high school? Why or why not?
Visit the "Big Three" websites on page 142 and explore the resources, tools, and documents that pertain to your financial situation. Write a review of the top 5 most helpful sections of these pages.
Make a list of organizations you and your parents belong to, interests you have, and subjects you would like to study. Search the U.S. Depart- ment of Education's Education Resource Organizations Directory website and/or your college's financial aid office for scholarship and grant opportunities that might be available to you based on your list.
Create a calendar for the upcoming year that will help you organize the various scholarship and aid deadlines.
Visit www.LifeDuringCollege.com
for more resources and exercises.