Home

>

Health Insurance (Ch.19)
We know this chapter would be voted "Most Likely to be Skipped Over" if a contest were held. We considered titling it Human Sexuality or How to Guarantee a 4.0 just to get your attention, but ultimately decided to go for a more subtle (and honest) opening:
HEALTH INSURANCE IS REALLY IMPORTANT, even if you're young and feel like injury and illness is something for another generation, like baldness, a preference for comfortable shoes, and the desire to eat dinner at 4:30 p.m. You're not alone if you feel that way. In fact, your age group is least likely to hold health insurance, which is partly due to the sense that health insurance is an optional expense. Beginning in 2014, it is a requirement for most Americans. But even when it's not required, health insurance should be a priority. After all, a catastrophic illness or injury could sideline you physically and financially for years.
This chapter will cover:
the importance of health insurance
health insurance options
The Importance of Health Insurance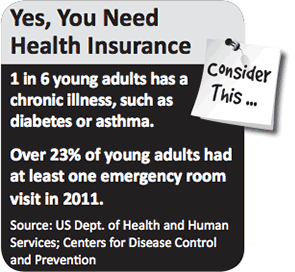 Health insurance is a must. Even if you are young and healthy, it is an enormous risk to go without health coverage. Taking such a risk—even for a few months—could have devastating consequences. The out-of-pocket cost of a broken ankle is over $1,500. Going to the ER for a sore throat, getting tested, and being told to go home and get some rest will run you about $500. (Of course, avoiding the ER when you do have a serious illness can cost even more.) And these examples are small potatoes next to catastrophic illnesses, which can easily rack up tens and even hundreds of thousands of dollars. Note: Under the Affordable Care Act, often called Obamacare, health insurance is mandatory for the vast majority of the population. Individuals who don't carry coverage will be fined. Exemptions to the mandate include members of some Indian tribes and individuals making less than $10,000 per year.
There are several options for health insurance coverage for a first-year college student. The first—and best—option is that you're still covered by your parents' health insurance. If this is the case, you are probably insured by either a Health Maintenance Organization (HMO) or a Preferred Provider Organization (PPO).

HMOs provide health care through a network of doctors, hospitals, and medical professionals. Participants pay a monthly premium in exchange for the HMO's comprehensive care. In order to access full benefits, participants must seek care from in-network primary care physicians and must have a referral in order to see a specialist. HMO members can usually go to out-of-network providers, but they have to pay more out of pocket to do so.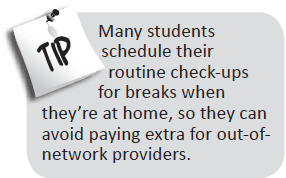 PPOs have a network of preferred healthcare providers, but participants may elect to seek care from a physician outside the network if they are willing to pay more. Unlike HMOs, PPOs generally allow participants to access specialists without a referral.
If your parents have health insurance, it is probably an HMO, PPO, or some variation on the two. More importantly, you can be covered on their policy up to age 26. However, if you live some distance away from home you might be out of network, which means you might not have the same coverage.

This means that, while you may have relatively small co-payment requirements at your regular doctor's office back at home, any doctor in your new town will not be a preferred provider. Therefore, your share of the cost of the visit might be quite higher than back at home. To complicate matters, coverage varies from plan to plan and state to state. The best course of action is to call your health insurance company before you move to find out exactly how much coverage you'll have at college, and what you'll need to do to access that coverage. Keep a file of important customer service numbers and preferred providers in your new location. It's much more fun to decorate your dorm room and explore the campus, but take care of health insurance business right away so you don't have to deal with it when you're sick or injured.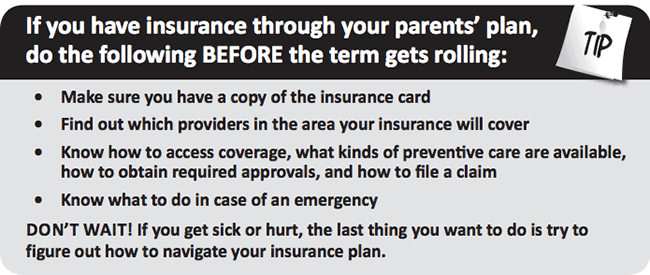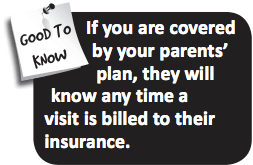 If your parents do not have health insurance, or if the insurance they have doesn't cover you adequately in your new town, you have other options to explore:
University health insurance plans: Colleges usually contract with insurance companies to offer basic student health insurance plans. These plans have limited coverage. For instance, they often exclude routine care and they might limit catastrophic coverage to $50,000. On the other hand, student health insurance is usually quite inexpensive and can come in more than handy when you have an illness or sustain an injury. You might want to enroll in the student health insurance even if you are already covered on your parents' plan, especially if your parents' plan does not offer extensive coverage.
Federal or state insurance exchange:
As of 2013, individuals may purchase affordable health care through state or federal health care exchanges. These online marketplaces offer side-by-side comparisons of various plans for comprehensive
health insurance. People who make under a certain amount qualify for tax credit subsidies. Go to www.healthcare.gov to find out what's available to you.
Catastrophic coverage: The insurance exchanges offer catastrophic coverage for people who want to pay a very low premium and a high deductible. If you sign up for catastrophic coverage you'll be eligible for just a few preventative visits a year. Catastrophic coverage if better than not having health insurance, but it just protects you from, well, catastrophes.
Medicaid: If your family is low-income and you are still a dependent, you might be eligible for insurance coverage through Medicaid, which is a federal assistance program.
Health insurance is expensive, but not having it can be financially devastating. Choose a plan—or a combination of plans—that makes sense for your unique situation.

Confused Yet? Here are three go-to resources that will help you figure out your health insurance options! www.healthcare.gov www.statehealthfacts.org www.healthinsuranceinfo.net
Visit www.LifeDuringCollege.com
for more resources and exercises.