Home

>

Student Organizations (Ch. 2)
A worthwhile college experience goes beyond the lecture halls and late nights at the library. Your time on campus offers you many ways to be active and engaged in the broader world around you. Campus activities play a vital part in your experience outside of the classroom.
The variety of organizations, sports groups, and other social clubs available to you is endless and appeals to every interest imaginable, from niche groups (Bocce Ball Club) to broad, nationally-based organizations (Amnesty International). Take advantage of the opportunities and don't be afraid to let your curiosity get the best of you; after all, there's no better time than now to try new things.
This chapter will discuss the following:
Types of campus activities
How to choose activities to participate in
How and why to commit to your chosen activities
There are as many on-campus activities as there are student interests. Some are one-time or seasonal events that anybody can participate in. Check your schools event calendar or the multicultural center's event calendar to find out what's going on around campus. You'll find plays, lectures, poetry readings, film screenings, debates, celebrations, and outings that are open to anyone. Whenever possible, get out and take advantage of the opportunity to experience something new and different.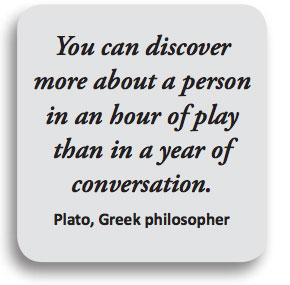 Some activities are ongoing and entail a bigger commit- ment. Here's an overview to get you thinking about what might interest you most:
Academic Clubs and Societies
Some Academic Clubs and Societies are highly selective or invitation-only. Most simply require that you be interested in the subject. Examples include Astronomy Club, Spanish Conversation Club, and literary societies.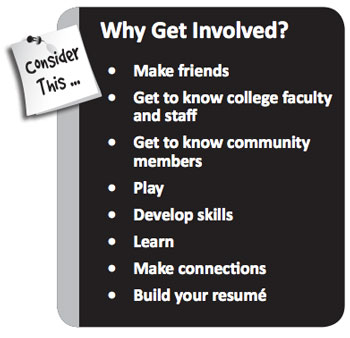 Media
Does your college have a student-run newspaper, radio station, television network, online or print magazine? Depending on the medium and mission, you might find a place on staff as a writer, editor, advertising salesperson, graphic designer, videographer, DJ, etc.
Religious
Your school might have a specific religious affiliation or it might have diverse religious affiliations represented.
Special-Interest Groups
These groups are based on the common interests of their members. Photogra- phy clubs, mountain biking groups, and performing arts organizations are a few examples.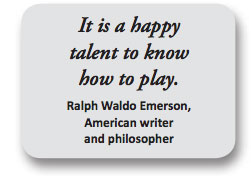 Sports
From intercollegiate sports to intramural sports to on-campus teams, leagues, and tournaments, there will be no shortage of ways for you to sweat; throw, hit, and bounce things; yell, shout and laugh; wear funny equipment; and wear yourself out. Lacrosse, skiing, skydiving, basketball, archery, and even bowling appear on lists of sports activities.
Student Government
Nearly every college has a student government. You can participate as an elected officer or representative from your department, dorm, or club.

What Activities are Available?
To find out about your school's activities:
Check out your school's web page. Look for these headings: Student Life, Activities, Clubs, etc.
Ask other students about organizations that may interest you.
Visit your Student Activities Center or its website and review its list of activities.
Attend a campus activity fair. Many colleges hold regular events where represen- tatives from student organizations share information about what they do and how to get involved.
Meet with your academic advisor to ask for her or his recommendations.
Go to a meeting. Throughout the year many student organizations will host new member meetings. Keep an eye on bulletin boards and campus publications to find these meetings.
How to Choose?
Don't. At least, don't choose yet. The best part of being a first-year college student is that there's an overwhelming, exhilarating array of possibilities. You don't have to be an expert; you just have to be interested, show up, and play or work as hard as you can. We recommend that you check out a lot of activities now and get a feel for them. Try out those clubs that revolve around things you're already passionate about, but also try out the clubs that spark your curiosity or seem out of your comfort zone. Be open to finding a new passion.
After you've explored your options, reflect on what you hope to gain from your extracurricular activities. Ask yourself:
What is my motivation? Is it to make friends, develop a new skill, relax, help others, and/or get outside?
Which activities fit my needs? Make sure you fully understand the mission, values, and requirements of the organization.
Can I fulfill the requirements of the organization? Some clubs charge dues
or initiation fees, or require members to travel and/or purchase uniforms and equipment. Some organizations take attendance and require members to fulfill a certain number of hours per month. Some require members to complete a task or demonstrate a certain skill level—world language clubs may require potential members to pass an oral fluency exam, for example, and scuba diving clubs probably require their members be licensed.
Commit
When you find a group you're interested in, stay in touch and informed via social media. Most campus organizations will have an events calendar you can subscribe to or a Facebook group you can join. If you want to take your commitment to the next level, choose a group or two that you can really dedicate your time to. Commitment means attending the meetings and events regularly, showing up on time for activities, being an active participant in meetings and projects, and providing leadership by volunteering for roles within the organization.
Active, meaningful participation will challenge and fulfill you. Sure, you don't want to overextend yourself and spend so much time on activities that your academic work suffers. On the other hand, taking some time to pursue your passions outside the classroom and lecture hall can invigorate and enrich your college experience.
Campus Activities Exercises
Make a list of three or four extracurricular activities that interest you. What would be the benefits of getting involved in each activity? What would be the commitment level? What drawbacks, if any, would there be to getting involved in each one?
Choose two extracurricular events or activities to participate in this week. Afterwards, write about what you did and what you got out of each experience.
Which extracurricular events or activities would give you the chance to be with a diverse group of people? Select one to participate in and write about the experience (or make a presentation about your experience).
Visit www.LifeDuringCollege.com
for more resources and exercises.